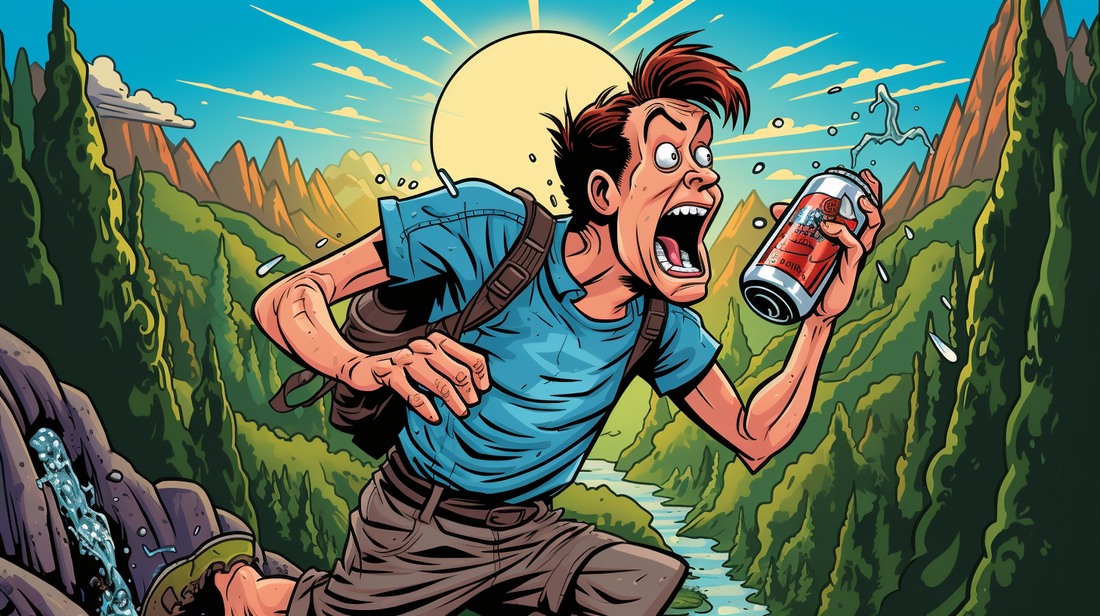 The Importance of Electrolytes During Hiking
The Importance of Electrolytes During Hiking: More Than Just Water
We all know the importance of staying hydrated during outdoor activities. However, did you know that drinking only water might not be enough to keep your body at its best during a hike?
When we sweat, we don't just lose water. We also lose electrolytes, which are essential minerals that help our body move water between cells and keep it where it's needed. Common electrolytes include calcium, chloride, magnesium, phosphorus, potassium, and sodium.

Plain water fails to replace these important minerals when they're lost through sweat. Given how crucial these electrolytes are for essential bodily functions, serious consequences can be faced when they're depleted, further amplifying the effects of dehydration.
While it rarely gets so bad that a loss of electrolytes is killing someone on the trail, keeping electrolytes present in the body will contribute to a more enjoyable and safer experience outside.
Adding electrolytes to your hiking hydration plan doesn't have to be complicated. Several great companies produce products designed to address this issue in a convenient and tasty way. Here are a few recommendations:
Tailwind Nutrition: This company offers a wide range of products that cater to various endeavors. All their products contain electrolytes that will help the user stay healthy and hydrated. Plus, a serving of the basic Tailwind Nutrition 'Endurance Fuel' mix has about 200 calories – something else to avoid skimping on when participating in a long and strenuous outdoor activity.
Nuun Hydration: One big perk of Nuun Hydration is the portability of their products. This company is best known for packing 10-plus servings of electrolyte-boosting drink tablets into a tube that fits in nearly any pocket. Plus, with a wide range of flavors, everyone is sure to find something they can look forward to putting in their drink.


Liquid IV: Another popular brand when it comes to portable electrolyte packets, Liquid IV makes the claim that they're the top 'powdered hydration brand' in America. This brand has a lot of fans around the country, including many that use the product daily whether they're participating in a sport or not.
Gatorade: Perhaps the most well-known electrolyte-boosting product worldwide, Gatorade gets a lot of grief for its sugar content. That being said, strenuous physical activity in the mountains is actually one time when this product gives the body a lot of what it needs. While many outdoor recreators may opt to turn to electrolyte packets or tablets first, Gatorade is great to keep in mind as it's found at nearly every gas station across the country.
When it comes to electrolyte-boosting products, it tends to be best to try a few options and then determine what works best for you and the situation you're in. Consulting your doctor or a professional nutritionist on the matter is always a good idea, as they'll be able to help you develop a hydration plan that works best for you.
Remember, staying hydrated is more than just drinking water. It's about maintaining a balance of water and essential minerals in your body. So, the next time you plan a hike, don't forget to pack some electrolytes along with your water bottle.

The Importance of Electrolytes During Hiking: More Than Just Water